Add your company, let potential customers know more about you and your business. Add your BUSINESS to our Directory For FREE | LOGIN | REGISTER | AFFILIATE | KBLI | ABOUT US
Pariwisata Indonesia | Perusahaan media di Inggris The Telegraph mencatat Indonesia sebagai menjadi salah satu dari 20 negara dengan pertumbuhan pariwisata tercepat. Bahkan mereka menilai pertumbuhan pariwisata Indonesia empat kali lebih tinggi dibanding pertumbuhan regional dan global. Data memang membuktikan klaim tersebut. Pertumbuhan pariwisata Indonesia dalam beberapa tahun terakhir mencapai 25,68 persen, sedangkan industri plesiran di kawasan ASEAN hanya tumbuh 7 persen dan di dunia hanya 6 persen. Tak hanya itu, Indeks Daya Saing Pariwisata Indonesia menurut World Economy Forum (WEF) juga menunjukkan perkembangan menggembirakan. Menurut mereka, peringkat Indonesia naik 8 poin dari 50 di 2015 ke peringkat 42 pada 2017.
Meningkatnya sumbangan devisa dari sektor pariwisata, tentu saja, karena jumlah wisatawan yang terus melonjak. Pada 2015, jumlah wisatawan berjumlah 10 juta orang. Angka tersebut bertambah menjadi 12 juta orang pada 2016. Penambahan jumlah wisatawan ini menambah pemasukan devisa negara dari US$ 12,336 miliar menjadi US$ 12,44 miliar. Sementara pada tahun 2017 ini tercatat jumlah pelancong asing sudah menyentuh angka 14,04 juta orang. Pemerintah menargetkan 20 juta wisatawan akan berkunjung ke Indonesia pada 2019.
Untuk memenuhi target perolehan devisa dan 20 juta wisatawan pada 2019, pemerintah pun telah mengembangkan 10 destinasi wisata prioritas, yakni Tanjung Kelayang, Tanjung Lesung, Mandalika, Morotai, Borobudur, Danau Toba, Kepulauan Seribu, Bromo Tengger Semeru, Wakatobi, dan Labuan Bajo. Ke-10 destinasi prioritas tersebut melengkapi 10 destinasi lain yang telah berkembang, seperti Wakatobi, Raja Ampat, Bunaken, Bali, Jakarta, Kepulauan Riau, Banyuwangi, Bandung, Yogyakarta, Solo dan Semarang.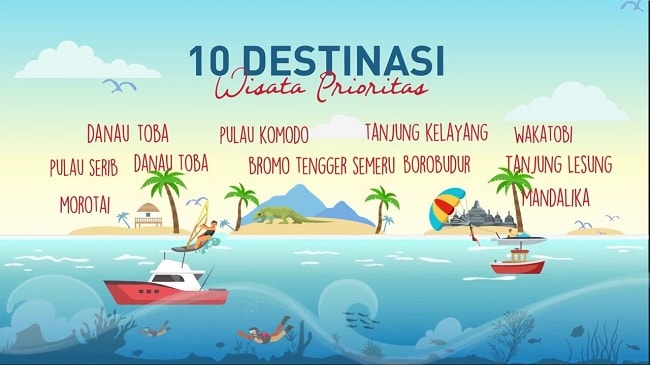 WONDERFUL INDONESIA (Silahkan Klik Lokasi Wisata) :
Jakarta
Kepulauan Seribu
Bali
Candi Borobudur
Raja Ampat Papua
Kepulauan Riau
Komodo, Labuan Bajo
Tana Toraja, Makassar
Manado, Bunaken National Park
Wakatobi
Kalimutu, Flores
Maumere, Flores
Lombok
Banyuwangi
Yogyakarta
Jawa Timur
Jawa Barat
Sumatera Utara
Sumatera Barat
Sulawesi Selatan
Surfing
Diving
Trekking
Culinary
Shopping